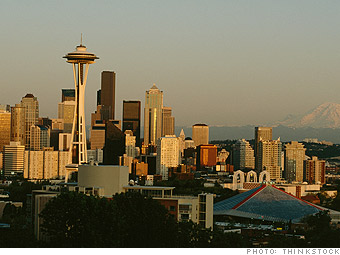 Median home price: $375,000
Drop since market peak: 24.4%
Forecast gain by 9/2012: 3.7%
Seattle is a good mix of new and old economies, with Microsoft, Amazon and Boeing offering good, well-paying jobs. And that has been key to getting the city's economy off life support, with the unemployment rate dropping below 9% in December.
"We've got solid corporate leaders and that firms up the purchase market," said Lennox Scott, CEO of John L. Scott Real Estate.
However, Seattle is also a popular place to live and many people financed their homes with dangerous loan products during the last decade. That meant that when the bust hit, foreclosures skyrocketed. The city is in the nation's top 50 hardest-hit areas for foreclosure filings, according to RealtyTrac.
But home prices will be rebounding, thanks, in part, to Seattle's position between mountain and sea. Because the area lacks land to build on, supply can be limited once the foreclosure market dries up.
Source article:
http://money.cnn.com/galleries/2011/real_estate/1102/gallery.best_recovery_bets/6.html